We are a leading ladies high fashion garment manufacturing Export Company certified for ISO 9001-2008 by SGS United Kingdom Ltd. for quality management, annual turnover is approximately $ 7.5 million.

We have been in the business of making ladies high fashion garments for over three decades and presently have a work force of over 800 persons.

We do the things that we need to do, to make sure we have a happy bunch working for you because we love the people we work with.
We are certified for Corporate Social Responsibility compliance on ETI (ethicaltrade.org) code of conduct by Intertek and are members of SEDEX (sedex.org.uk).
You can also find us on the global supply chain traceability site My String, (mystring.info) as a ladies high fashion garments manufacturer.

We are certified under the Global Organic Textile Standards (global-standard.org) for using sustainable textiles such as organic cotton.


Our design team loves creating beautiful garments. They are at the pulse of the latest trends. They visit trade shows such as Premiere Vision and Tex World and travel regularly to fashion hubs such as London & Paris to be in tune with what is on the streets and also in that little boutique round the corner. The designers produce exclusive and best selling styles for our customers. Each one of them put in their unique talent in crafting beautiful detailing which is the key ingredient in the value added product that everyone loves from us. Please login to our special designer update section where you can see our latest offerings. Login and password for existing customers will be provided by mail.

We use our in-house embroidery unit which includes over 40 embroidery machines, a multi head computerized sequins embroidery machine and embellishment handworkers for sampling and production to enliven the garments that you all love.

Our merchandising team works closely with our production team making sure that each detail is incorporated as per the order requirement. They keep our clients informed of the progress along the way. They monitor each stage, from cut to finish, ensuring that garments of the highest quality are being delivered on time.
Our very experienced fabric and accessories team ensure quality and provide technical solutions at every stage.
Our in-house laboratory carries out complete tests for all our greige and processed fabrics, and garments, guaranteeing the best quality standards are maintained.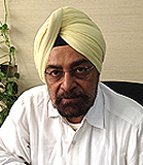 Mr. G S Madan
(Managing Director)
Mr. Madan from an army background embarked on a journey of making ladies clothing over 30 years ago. He is a pioneer in the trade and holds office at A.E.P.C. He has been a past president of GEA (Garment Exporters Association). He has set the building blocks of the organization with a positive attitude, and is proud of good product being shipped from his factory.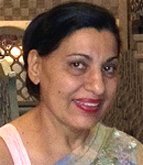 Mrs. Rita Madan
(Director of Operations)
The pillars of the company are manufacturing quality garments and Mrs Madan is the lady who gets the production chain in order. With her in charge, the garment production is in good hands.



Our manufacturing infrastructure and showroom is located at Plot no.4, Lajwanti Complex, DLF Industrial Area, 14/3, Mathura Road, Faridabad, Haryana.

Sampling Room
Our highly experienced pattern masters along with skilled tailors churn out great design samples from the creatively inspired design team and our customers.
Cutting
It is one of the most important processes within the chain of production. We get it right from the roots with highly experienced cutting masters planning and ensuring each part is cut right from the correct portion of the fabric.
Production
We have flexible lines from 30 persons in 1 line to 50 persons in 1 line, depending on the operations the style requires. We have over 650 single needle Japanese lock stitch machines in-house.
The production system is equipped with state of the art computerized sewing machines,
CAD/ CAM, over lockers, fusing machines, automatic collar cuff turning machines, in-house computerized multi-head embroidery and sequins machines. Our machinery is of Japanese or German origin.
Washing
We have a fully equipped plant for washing with steam boilers, industrial washing machines, hydro extractors, dry cleaning machines and Perc cleaning plants.
Laboratory Testing
We test all our fabrics and garments in-house to ensure that it passes all the required tests. Wherever required we send things for testing to recognized lab.
Finishing
Our finishing department makes sure that all measurements are to specifications and go through the chain of ironing/ steaming. Once the garments come out of the finishing, they are spotless, clean, crisp and ready to be sold in all their grandeur.
Quality Control
We maintain a high standard of quality. Our quality control department ensures that checks are made at all stages. All components fabrics, accessories, threads etc are all checked for quality at the raw material stage. Followed by in-line checks at the stitching and finishing stages. Then finally before the garment is packed the quality cell screens the garments once again.
Packing
This department makes sure that all guidelines required by the customer are maintained in packing of garments. From folded garments in poly bags to garments on hangers in cartons to garments on hanger hanging in a container, we do it all. We are allowed to seal containers at the factory site.
Our Capacity
The manufacturing capacity of the unit is currently 70,000 pieces per month.


We can make you some bling and some classy styles that would definitely be the eye candy of the store.
Our core is in manufacturing woven ladies high fashion garments with added value of embroideries and embellishments.

• Ladies high fashion garment
Dresses
Blouses
Vests
Skirts
Pants
Shorts
• Ladies nightwear
• Ladies Maternity wear
• Ladies Accessories
Stoles
Sarongs
Head scarves
Belts
Embellished bags


Debenhams' Designer Labels
(John Rocha, Mathew Williamson, Ben de Lisi, Henry Holland, Betty Jackson, Red Herring, Jasper Conran, Mantaray, Limited Edition, Holiday Shop)
Matalan (All brands trendy to contemporary fashion)
Mamas & Papas (Maternity)
River Island (Trendy clothing and exclusive ranges )
Pepperberry (A specialised clothing label from Bravissimo for big bust sizes)

Eland Fashion
(Mixxo, Roem, Clovis, Lady Brenn, SPAO, 2ME etc)

Promod
3 Suisse
La Blanche Porte
(An Otto linked catalogue)

Colveta
(Superstar, Didi, Steps)

I.C company (Jackpot, Inwear, Part 2)
Munthe Plus Simonsen
Noa Noa
Fransa
Day Birger et Mikkelsen
Dranella

Mango
El Corte Ingles

Ann Taylor Accessories
Liz Claiborne
Mothers Work
Urban Outfitters


1977

Private Limited Company

Canara bank
Lajpat Nagar (main), New Delhi
Standard Chartered Bank
10, Sansad Marg, New Delhi-110001